I've spent some time today browsing all the wonderful blogs that are listing beautiful Valentines Day items and those inspired by love and I wanted to post some of my favorites.
The pottery hearts made by Rea Dun and found thru
Poppytalk Handmade
are perfect to let you count the ways. And how great would it be to get a cute accordion book from
Good Stock
your sweetie with their favorite photo's of you together. The ring isn't specifically for Valentine's Day, but it's just so perfect.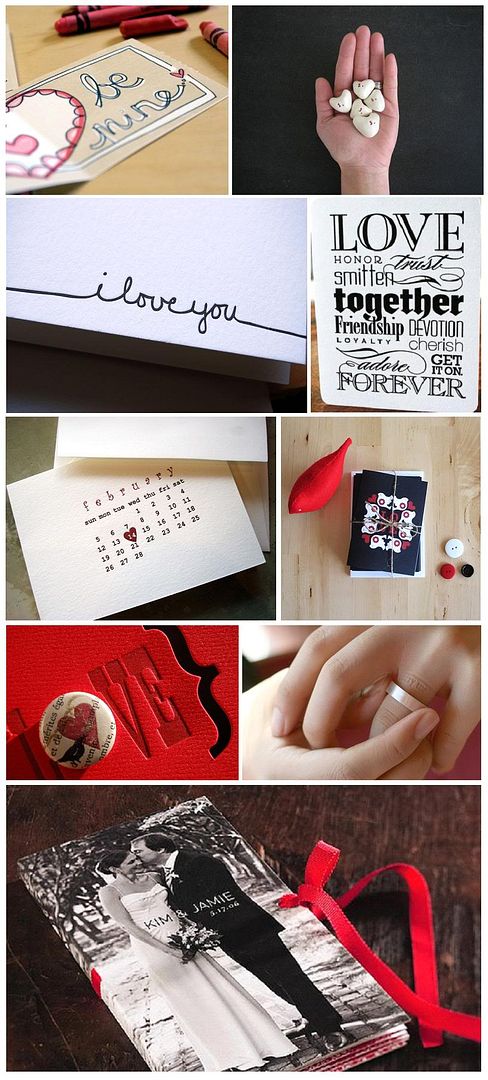 First Row: Card by vol25 via
Poppytalk Handmade
, Pottery hearts by Rea Dun via Poppytalk Handmade/ Second Row: Card by Porridge Papers via etsy, card by
Orangebeautiful
via etsy.com/ Third Row: Card by
Porridge Papers
via etsy, cards by
Naomi Murrell
via etsy/ Fourth Row: Card by
invitedink
via etsy, image from Yoon Jung Yun/ Fifth Row: Accordian book by
Good Stock