Abby over at
Style Me Pretty
, my favorite blog, is hosting a contest for inspiration boards. The purpose of the contest is to provide ideas to a reader who is having an upcoming wedding at a vineyard in Virginia.
From the Bride: I am getting married May 1, 2010 in Charlottesville, Virginia. I am a woman who has been dreaming about her wedding her entire life. Now that the time has come for me to plan I have begun to feel very overwhelmed. Specifically, I am having a hard time editing myself. I see all of these ideas and details that I like and I am not quite sure how to incorporate these ideas into my special day. The weddings that stand out to me (and I think most others) is the ones that work in small, unexpected details. The details are what I am getting lost in. So, I come to you for help.
I know that I my wedding colors are going to be a bright pink (more raspberry) and white. I will be married in a vineyard and the ceremony will be outside. I am a girl who is attracted to shabby chic styles. I see myself using more vintage chic/rustic type of details and designs. My friends and family would describe me as very preppy and not as trendy as other 25 year olds. While I am not desperate for penny pinching ideas, I also do not have an extravagant budget to work with. Can you help me figure out where to begin?
My Answer and Board:
When I think of shabby chic, I think of soft muted colors, gold, aged furniture, and crystals. With the vineyard as a beautiful backdrop I incorporated colors of nature with wood tones and touches of green allowing the vibrant raspberry and crisp white to shine. The bride's preppy side can be reveled with striped accent pillows or fabric. My inspiration board began with a beautiful photo of raspberry colored flowers by Ariella Chezar, simply chic dresses from J Crew, and wonderful gold jewelry.
So head over to StyleMePretty.com and vote for your favorite board.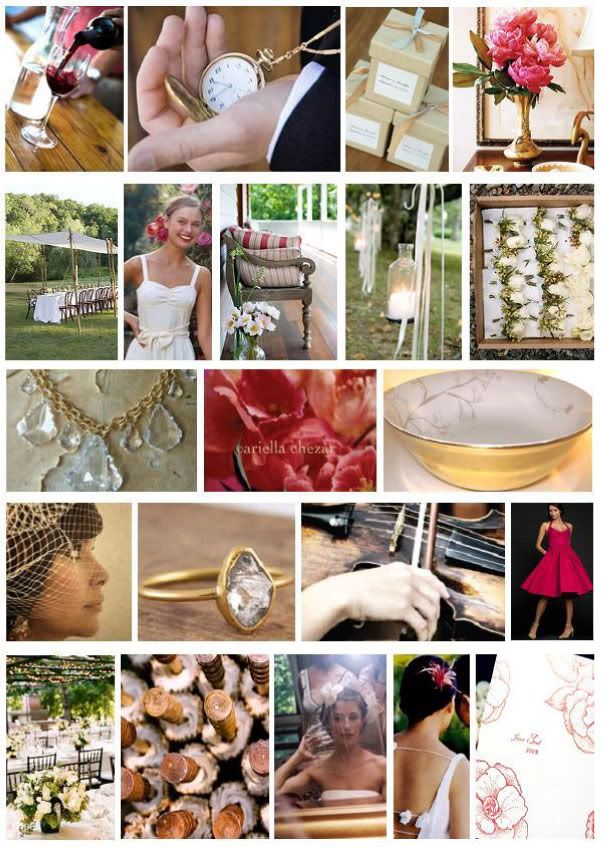 First Row: Allyson Magda Photograph, pocket watch photo by
Katie Moos
, Photo via The Photo Factory,
Domino Flowers
via Style Me Pretty / Second Row: Canopied table from
Brides,
J.Crew via
{frolic}
, Country Wedding Ideas, votives from Kate Parker,
Myrtle and Marjoram
Photo of Boutonnieres / Third Row: Jewelry by
Saylor Sage
, Pink florals by
Ariella Chezar
,
Jessica Rust
Serving Pieces / Fourth Row:
Erin Cole
veil photo by
Leigh Miller
, ring by
Sarah Perlis
, Photo by
Kitty Maer
via Style me Pretty, dress from J.Crew / Fifth Row: Zoom Photography,
Zoom Photography
, Photo from
Cappy Hotchkiss
via
Snippet and Ink
, Photo via
Brides
,
Ceci New York
Program