Hi everyone,
If you're one of our brides you probably already know that we've been working hard on redesigning and remodeling our office space to make it a relaxing retreat and design studio for our Brides, clients, and all their friends and family that are involved in the planning of their big day.
I was particularly inspired by Monica Rae Gill and
The White Box Studio
where brides can bring their planning materials; get questions answered; and browse vendor portfolios, planning books, and bridal magazines.
Since I love all things design including fashion, interior décor and of course event design, I have collected some wonderful images that helped inspired our remodel.
After picking the important elements, some that needed refurnishing and re-painting, my patient husband has now taken on the role of plumber, electrician, painter, and his specialty, home electronics and theaters installation for our in-ceiling speakers and flat panel TV. Though he had little difficulty with the lighting and electronics, the refurnishing of some of the furniture pieces has proven significantly more trying. We hope to have the office completed shortly and even plan to have some of our favorite photographers' photo's placed on stretched canvas around the space. He's even has gone out of his way to find the perfect antique typewriter. I can't wait until it's refurbished and in working condition and we plan to use it as a unique guest book for visitors to the studio. I will keep you all up-to-date and will post some pictures of the results soon. Wish us luck.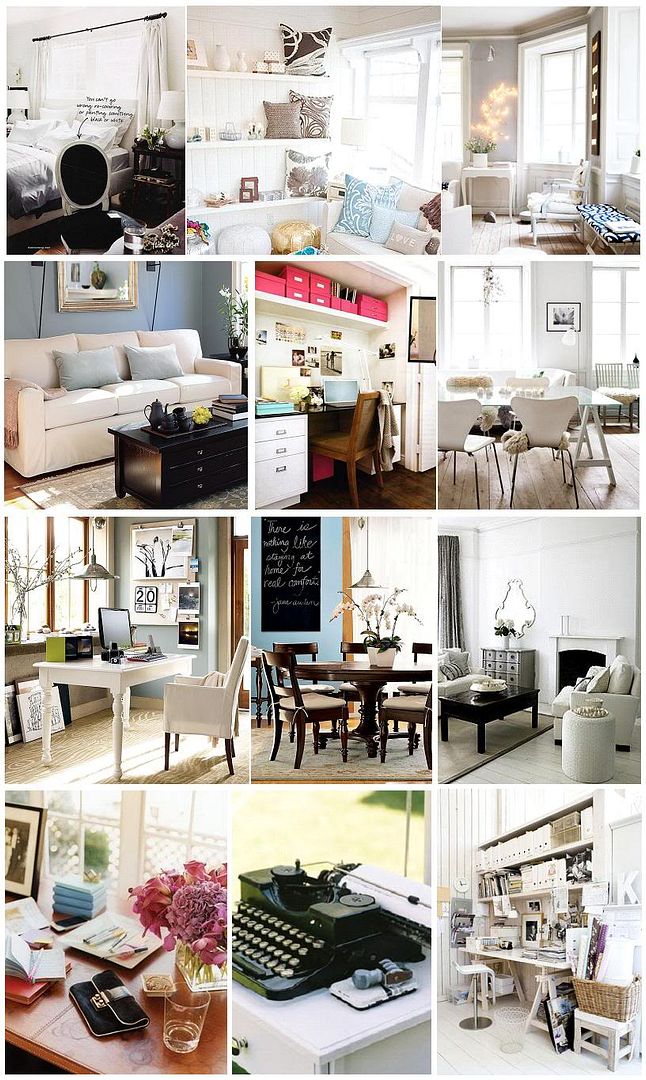 Images from
Domino Magazine
,
Decor8
,
Design Sponge
, Pottery Barn, Sofia Coppola bag via
Simply Lovely
, Photo by Anna Kern via
Decor8
, photography of Trine Thorsen design via
Decor8