We've been supper busy lately with the holidays and meeting with so many wonderful brides. Over the next week or so I have decided to post a few Inspiration Boards that we created for some our 2009 Brides. Hopefully some of these will give you ideas for your own special day.
The first board is for Andrea who is getting married at the
Historic Tremont
in Baltimore. She's having an intimate wedding in November and loves the color red. She's even planning to wear her favorite red chucks for the reception. How cute! So here is one of the inspiration boards we created for Andrea.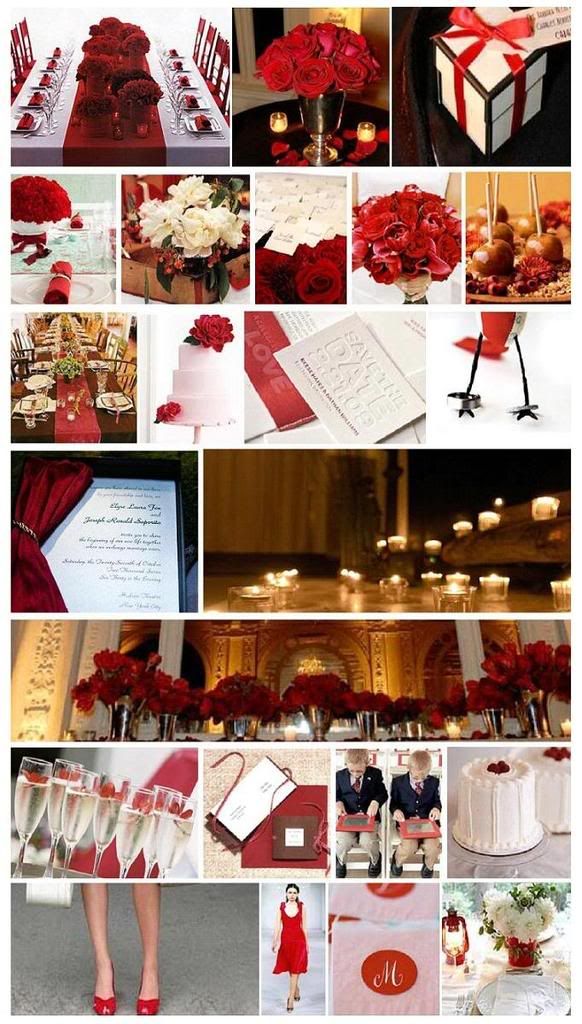 First row:Table from Martha Stewart Weddings, Photos from Wedding by James Abel via Style Me Pretty/Second row: Table photo from Martha Stewart Weddings, Red peony arrangement by Ariella Chezar, seating cards by Laura Hooper, bouquet and votives from The Knot/Third row: Cake from Martha Stewart Weddings, save-the-date by Alee & Press, Ashley and Dusty's wedding featured on Snippet & Ink /Fourth and Fifth row: Photos from Wedding by James Abel via Style Me Pretty/Sixth row: Champagne from Beth Helmstetter, programs by Jo Gartin, Kid photo from Junebug, cake photo by M. Polss/Seventh row: Photo via Black Eiffel, Luisa Beccaria dress via Perfect Bound, calligraphy by Maybelle, Table by Art Fool